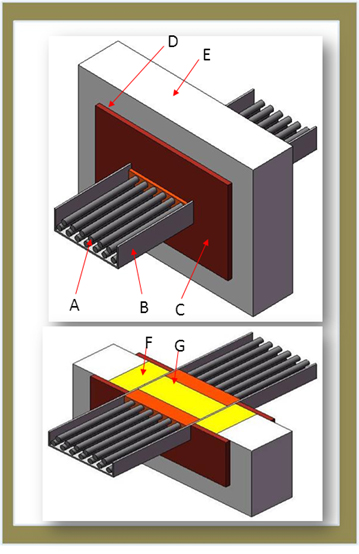 Firestop Sheet
Fabricated by bonding intumescent material to a metal sheet.
Prevents Flame and fume to pass.
Features
Fire Rating : 3 hours
Single Penetration
For wall and floor
Seal small penetration opening
Curing time 15 days.
Stable and maintenance free.
Halogen and asbestos free
Design & Material
A : Cable
B : Cable tray.
C : Firestop sheet
D : Fire stop silicon Sealant
E : Concrete wall/ floor.
F : Mineral Wool Board
G : Firestop moldable putty
Compliance
UL 1479 3 hr. F rating
CAN/ULC S 115 3hrs FTH rating
FM approved
Penetrations:
Cable bundles, Cable trays, PVC pipes, Metal Pipes, Air Duct, Busway, Multiple penetration etc.