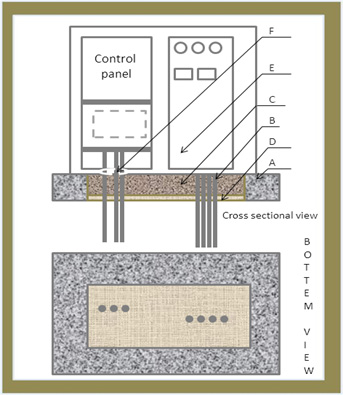 Design
A : Concrete Floor of minimum 200 mm thickness
B : Cable tray or bundles
C : Foam
D : Ceramic Slab of 25 mm
E : Control panel ( Obstructing top exposure )
F : Hole through liquid poured.
Compliance
UL 1479 2hr. F & T rating FM approved ASTM E662
Expanding Foam
Made from two component liquids, A & B. On mixing in ratio, the mixed liquid expands volumetrically, filling gaps/ voids between cable bunch and spread to fills opening of any size or shape. Within 3 minutes, it forms a medium density foam which is fire retardant. Require shuttering plate of ceramic wool slab and plugging with wool for prevent leaking, which may be left as it is fire resistant.
Features
Fire Rating :
2hours
Mixed liquid expands by 3 times volumetrically.
Intumescent property and expands 4 to 10 times in fire.
Touch dry in 3 to 10 minutes.
Full cure in 24 hours
Large size barrier.
Single or multiple Penetration
For wall and floor
Flexible, Can be drilled for new cable, Maintenance free
Halogen and asbestos free.
Penetrations:
No penetration, Metal Pipes, Plastic pipes, Electrical cable bundles, Cable trays, Busway, Air Duct
Best suitable, when cut out is having limited exposure from top .
Example : Opening below Electrical panel etc.