DC333 Fire Proof Paint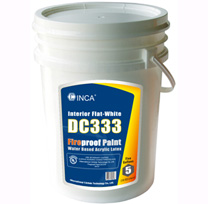 DC333-The expandable fireproof paint in water base for both interior and exterior developed by international Carbide Technology Co., Ltd. DC333 will expand rapidly to be dense foams as a barrier to stop the fire spread effectively. DC333 contents the special Veova latex resin, nanometer inorganic materials and water proofing agent which will affect the anti-dust on the surface of coating layers to maintain the characteristics of coating not be decomposed by water. Of course, non-toxic, environment friendly and smoke spreads limited are the characteristics of DC333. This products has be approved to comply with ASTM E84 Class A.
Characteristics:
According to the right construction, only 500-500g/M² (the dry thickness is approx. 0.27
mm) can be certified
by CNS6532 Class III and GB15442.1.
Specification
| | |
| --- | --- |
| Density | 1.25g/cm³ |
| Viscosity | >80 Ku (25®c) |
| pH | 7.0+1.0 |
| Color | White |
| Thinner | Water |
| Time for solid | 24 hours tack-free; |
| 48 hours full cured at | 25®C |
| Storage Temprature | 5®C-35®c |
| Usage | 200Ft²/Gallon |
Test:
ASTM D5116
ASTM E84
NFPA 286 (UL 1715)
NIEA R401.21T
ASTM E119 (UL 263)
UBC 26-2
ASTM D5590
Application:
Applied as a primer to interior surfaces with normal paint as its top coat.
DC 333 can be top coated with desired finish latex paint to match décor.
Increase fire resistance ratings of construction material like OSB/Plywood, Gypsum, and Dimensional Lumber.